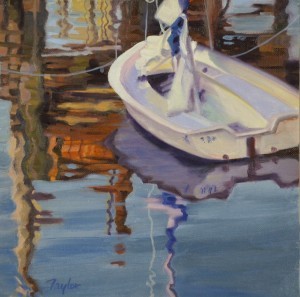 Artist's Notable Events
January 2016
---
Throughout the month of January 2016, fifteen of my paintings will be on exhibit at the North Ridge Country Club in Raleigh, NC. Tuesday, January 19th from 5:30 to 7:30 is designated at a night to "Meet the Artist".  At that time I will be available to discuss the background part of my process that goes into making a painting. Quick Stop, at the left, is one of the paintings on exhibit.
October 2015
---
Coming up in October 2015, I will be Juror of Awards for the first Annual Art of the Heartland Juried  Painting Competition held by South West Artists, Inc. in Mena Arkansas. Entries will be accepted until July 10, 2015. For information, check this link www.theArtoftheHeartland.com.
Following the AHL show opening, on October 12, 13 and 14, I will hold a three day workshop titled Painting Beautiful Water in Any Medium. At the left is a favorite painting from my archives titled Summer, which is an example of the different types of water often used in landscapes and  marine paintings that we will cover. Information is on the website: www.theArtoftheHeartland.com.
March 2015
---
Canna 2 was accepted in the Raleigh Fine Arts Society Exhibition at the Betty Rae McCain Gallery, Duke Energy Performing Arts Center.  March 1 – April 23, 2015.
February 2015
---
Pods, (shown) watercolor, was accepted in the North Ridge Country Club Exhibition. It will be exhibited with other paintings at the Club on February 28, 2015.
Two of my paintings are included in the Cream of the Crop show, which features Signature Members of the North Carolina Watercolor Society. They are Lucca (shown here) and Chain of Gold.